Mr B Sarada De Silva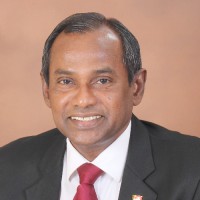 Chairman
B Darsin De Silva & Sons
Mr. Sarada De Silva counts over 45 years experience in the Spice Industry, specially in the Ceylon Cinnamon Industry and is the Founder Chairman of the Spice Council of Sri Lanka. He has held many positions in the Spice industry including the Chairmanship of the Spices & Allied Products Producers and Traders Association, the Export Development Board Advisory Committee on Spices & Allied Products, Trade facilitation and the Ministry of Commerce and Industry Advisory Committee on Spices & Allied Products.
A Member of the National Council for Economic Development (NCED),Export Cluster and Member of the Steering Committee to form the National Competitiveness Council of the Ministry of Finance. Mr. De Silva is also the immediate past President of National Chamber of Exporters of Sri Lanka.
He is the Chairman and Managing Director of B. Darsin De Silva & Sons (Private) Limited, Ceylon Cinnamon Growers (Private) Limited and Cinnamon Training Academy Limited. He is a director of the Sri Lanka International Arbitration Centre ( Guarantee) Limited and HVA Foods PLC. He was the Chairman and Managing Director of Intercom Group of Companies until his retirement in 2014.
Mr. de Silva is also the chairman since 2015 of Ceylinco General Insurance Limited largest general Insurance company in Sri Lanka with branches in over 10 countries.
Mr. De Silva as Founder Chairman of the Ceylon Cinnamon Association was instrumental in highlighting the importance of the Cinnamon Industry over the last three decades.
He was a Director of the Co-operative Wholesale Establishment (CWE) from 1994 to 2000 and Acting Chairman in 1998; and Chairman of the Committee appointed by the Minister of Trade and Commerce in drafting procurement procedure for the CWE. Consultant to World Trade Organisation - International Trade Centre, Geneva for EU assisted MARKUP project for East African Community countries.