Jayanti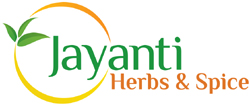 Jayanti(Est. 1940), headquartered in Bangalore is a family-owned, professionally managed, agro-commodities and food-business group. Today, Jayanti is a leading manufacturerexporter of Value-Added Spice, Decaffeinated Tea and Natural Caffeine having operational base in India and Turkey with a 1,000+ workforce.
Jayanti strives to make a difference in people's lives through farm-to-fork quality management for delivering food-safe products in the least possible steps.
Over the last decade, Jayanti has firmly established its credentials as Herbs and Spice Specialist Group with full supply chain traceability. We can now seamlessly manage the supply chain with backward linkages into farming and forward integration into retailing.
We believe farm-to-fork quality management is the way forward for food industry. All sensitive items are farmed under close supervision of inhouse agronomists to detect and mitigate problems right at the beginning of the supply chain.
Jayanti's sustainable farming initiatives in India and Turkey are focussed on fomenting a change at the grass-roots level. We are members of IDH, Netherlands and Sustainable Spice Initiative (SSI), Europe. As technical team members at ESA (European Spice Association) and ASTA (American Spice Trade Association) we stay ahead of competition by keeping abreast of latest developments and ever-evolving food-safety regulations.
Jayanti's pact with the progressive farmers of Sakleshpur region in Karnataka is focussed on conserving the rich biodiversity of the Western Ghats and controlling the incidence of quick-wilt disease for rehabilitation of pepper plantations.
Andhra Pradesh, Karnataka and Tamil Nadu are networked under Jayanti's Backward Integration Program for growing Sustainable Chillies. We are the first company to grow Rain Forest Alliance (RFA) Certified Chillies in India.
Jayanti's Backward Integration Program in farming in Chouhtan Village of Barmer district of Rajasthan has helped farmers grow Rain Forest Alliance (RFA) certified cumin for the first time in India.
Oregano, Sage and Laurel Leaves are farmed under controlled conditions by Jayanti's Agro team in Denizli, Turkey.
Jayanti has processing facilities at four important locations in India besides BRC AA++ certified Herbs and Spice Processing, Blending and Packaging unit in Turkey. Jayanti's state-of-the-art spice processing plant in Kinathukadavu, Tamil Nadu is also BRC A Grade Certified and has an in-house NABL 17025 accredited quality lab.
Jayanti has received many National and International Awards for Value Added Spice Exports and Green Business Excellence Initiatives.
Herbs & Spice are sensitive items and need special care to preserve their inherent qualities through their journey from plant to plate. Jayanti synergizes the best of two compelling origins; India and Turkey, the hub of Herbs & Spice farming to offer a host of competitive benefits to bulk and retail consumers in a wide range of packaging formats. The Group also offers Private Labelling and Branding services to iconic retail brands.