Shree Additives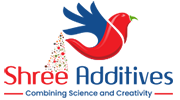 We at Shree Additives have been a solution provider to the food processing industry for the last 3 decades. Our core focus sectors today are the Dairy and Snacks Industry. To meet the demand for quality raw materials we have introduced a range of pure spice powders for industrial consumption. Some additional information includes:
State of the art German milling technology, which ensures minimal loss in Volatile oil of spices compared to conventional grinding technology (less VO loss = More savings!)
High speed grinding with speeds of up to 400kg/hour output (For coriander)
Guarantee of zero adulteration
Consistency in taste, aroma and quality.
The equipment is specialised in handling high VO (Volatile Oil) spices like black pepper, cardamom, cumin, coriander and all spice ingredient of Garam masala.
A dedicated quality control team ensures that all products comply with necessary regulatory requirements.
We would like to be partners to like-minded companies looking for using consistent quality raw material in their products. We are open to B2B supply, toll manufacturing of straight spices as well as blended spice mixes and also look forward to joint product development to suit any and all of your consumer's demand.
Please feel free to share your comments or query for business association to below mentioned contact,
Mr. Vijay Poddar at Email Id – [email protected]
Mr Shridhar Poddar at Email Id- [email protected]